"Vincé do you want to celebrate?" Said by one who organizes the party par excellence, that Guido Ferraro who in the columns of the Festa a Vico appeared only by name and cell phone number, the invitation sounds like a gastronomic promise of depth. "Yes, tonight, I'll see you in Carsoli with a few friends, everyone brings something". So, no more Apollo artichokes, we are also from the Republic's Feast. "Yes, a couple of bottles, we're already full. I'll bring some buffalo mozzarella and a couple of sfogliatelle". Guido, but one who goes to mineral water but when he swears a wine in combination with I don't know what? "At 8 pm in Carsoli, we made an appointment with Niko". Hello, hello, I'm on my way to Carsoli but where should we meet? "The square of Angolo d'Abruzzo, do you know it?". Well a few noodles and some pappardella fell prisoner. Guido and his kind consort Teresa have arrived 30 seconds earlier and they are about to unload the precious load of buffalo and cheese (but how many are we?). I follow them as they enter the door… of Lanfranco Centofanti's place. Excuse me, but are we here?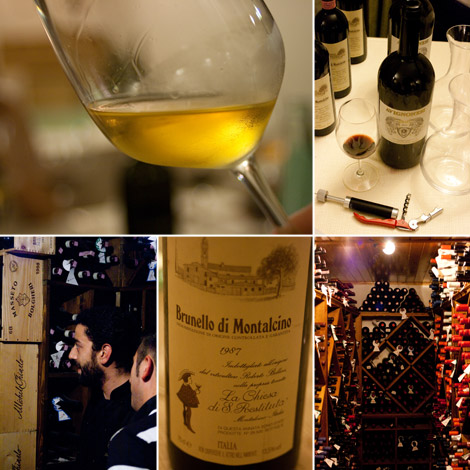 The answer is given to me by the table set for so many and Lanfranco on the command bridge fiddling with the ham box. I could use a knife, fraternally, me with bottles in one of Italy's most famous wineries. I cast an eye over the wine table. I catch a label of a 1987 Brunello di Montalcino Santa Restituta. It no longer exists. Here we are in the PhD zone. And with the winery of such a renowned size and quality, a visit is in order.
.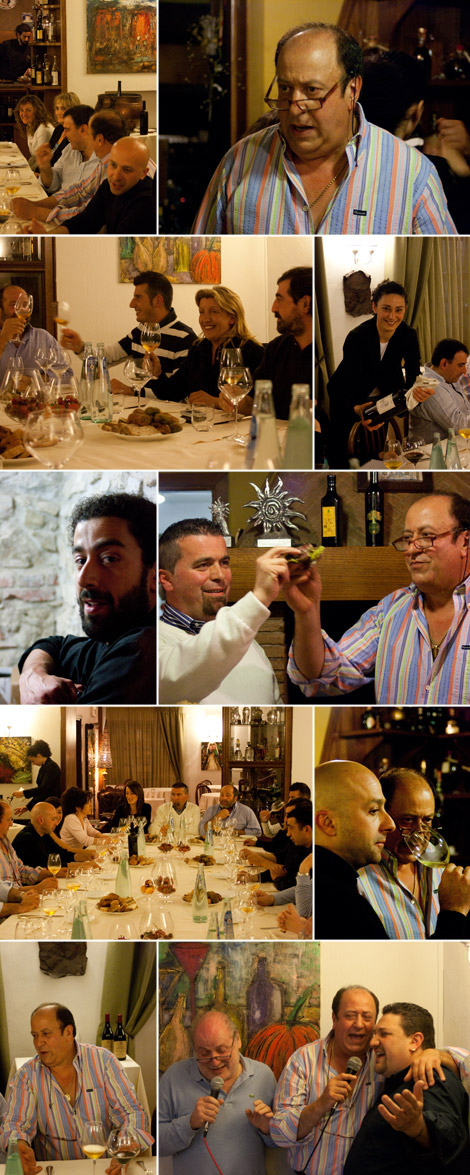 Happy birthday Lanfranco, 59 as a great enthusiast with his Angolo d'Abruzzo that he opened in 1986 with his wife Maria Teresa to propose the recipes of the territory, the agro-pastoral cuisine as he loves to repeat. I am immediately enraptured by the scents of the cured meats, the pecorino, the orapi, the mountain spinach, which flavors a spatial omelette. And then the mozzarella di bufala casertana della Fenice and the freshly baked breads. And greetings to Lanfranco's friends who came to celebrate him. Here is Niko Romito with girlfriend. Then there is Giovanni Colangelo who has his wine shop La Candarella in the wonderful medieval village of Pescocostanzo. And here is William Zonfa that the earthquake deprived of his restaurant and saw him move to Mosaico in Ischia last summer and will soon reopen in L'Aquila. Introductions. I was struck by "Venturino" Margadonna, valangologist, or rather the one who is entrusted with the safety of skiers. Natalia Nurzia of Fratelli Nurzia, the first to have reopened her restaurant in the middle of Piazza Duomo in L'Aquila, also arrives, last minute. Excuse me, but a tour of the cellar with Valerio Centofanti, freshly returned from Vico and a star in the kitchen in the footsteps of his parents, is as instructive as a chat with Lanfranco, who bases his experience also on his collecting skills. And it will be Valentina, the other member of the Centofanti family, who will cheerfully and sympathetically take care of the glasses of the troop that alternated intense moments of enogastronomic satisfaction with songs and toasts between Tasca d'Almerita '97 Chardonnay, Avignonesi '93, Cavalloto of the same vintage and, as mentioned, Montalcino '87.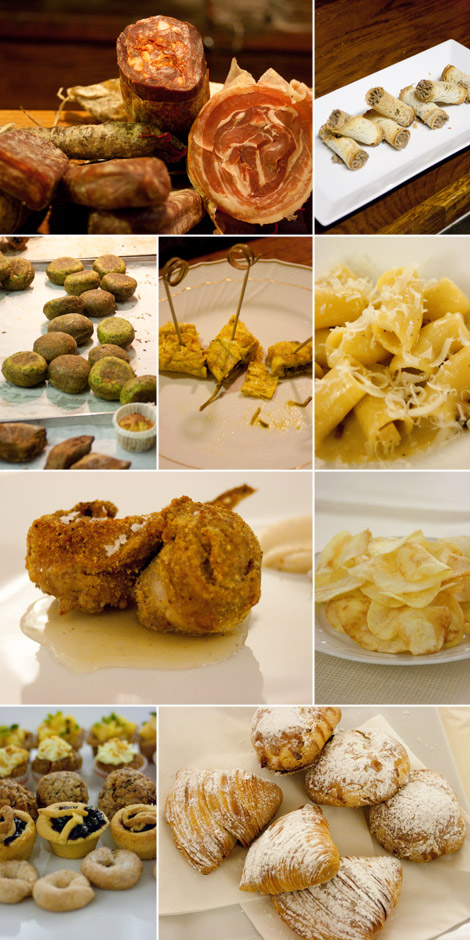 Dinner, you want to know about dinner? Great. Valerio has a good hand. Abruzzo on Abruzzo with Verrigni's rigatoni alla gricia with thistles, mountain artichokes. The lamb with its bottom accompanied by a pea bean puree. And then, the grilled scamorza cheese and French fries that make you understand how two dishes, which said so much do so corporate cafeteria or bar of frozen-from-scratch, can mark the difference between those who put down in the plate and those who do the cooking. Which translated means I would have eaten potatoes much longer. We close with a saffron crème caramel, the small pastry and the sfogliatelle ricce e frolle by Agostino Iacobucci of Cantinella in Naples self-carried by Guido.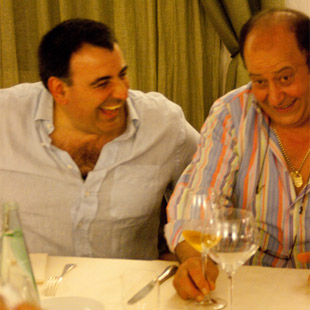 Great party. Happy birthday Lanfranco! A hundred of these days that in jacks we are many and we also have the Knight. And next year, it will be party again on June 2: President's Day. Stay tuned to this channel and you will discover another way of doing gastronomy 🙂